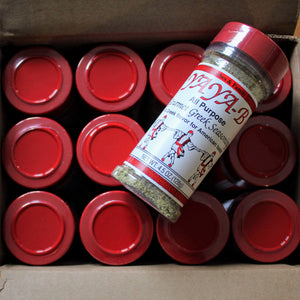 1 CASE (12 BOTTLES) of YAYAB SEASONING 
YAYA-B Seasoning is an all purpose gourmet seasoning that saves you time while giving your food exceptional taste. From intensifying the flavor of your favorite meat, poultry or fish you'll become the kitchen connoisseur and the neighborhood grillmaster with your new secret weapon. 
YAYA-B Seasoning doesn't stop at meats, you can also add it to grilled veggies, potatoes, omelets, salad dressing, popcorn and even bloody mary rim salt!
1 case (12 bottles) of Yaya-B Greek Seasoning

Each bottle is 4.5 oz

Yaya-B Pinterest Recipe Catalog: after checkout, you'll set sail into our members-only catalog of Pinterest recipes made exclusively for you.