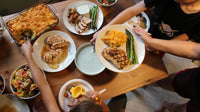 FROM OUR FAMILY TO YOURS
Did you know YAYA (γιαγιά) is the Greek word for grandma? Our grandma, Pauline Barbes, nicknamed "YAYA-B" created this secret blend of herbs, salt + spices to flavor her favorite recipes from Athens, Greece. YAYAB seasoning has been passed down through 4 generations and continues to be a staple in our kitchens from holidays to everyday cooking. It's a honor to share her secret all seasoning blend with you and your family too.
Testimonials
Our family loves YAYAB, we first sampled it over lamb at the Greek Festival and knew we were hooked. It's easy to use and works on everything!

Dorthy M. Rochester, MN
Every summer we host a neighborhood backyard BBQ and every year, people ask how I make my famous J's burgers, I share with them the secret ingredient: YAYAB. The whole block now has YAYAB in their spice cabinet. We're forever customers and tell everyone about it.

Jerry T. Roseville, MN
We love YAYAB on our popcorn for movie night and eggs for breakfast! We put the all spice on everything.

Jessica K. Minneapolis, MN
Absolutely delicious! I tried it at Hy-Vee Savage from a great rep. It's my new addiction on everything!

Nancy. Savage, MN
INTERESTED IN WHOLESALE?
Create your own income selling our YAYAB SEASONING. Simply send us an email titled, "wholesale" to Support@yayab.com and we'll be in touch.